By Slick Nick
Matt Cardle, winner of the 2010 series of X Factor, has gone on record to confirm his views that the vending machines at Syco records are more than adequate for his needs.
The tired cockney, 38, pictured below in talks with his chiropractor, has been working at the London premises since winning the contest's top prize last year: a ten-record deal worth reportedly £1.4 billion.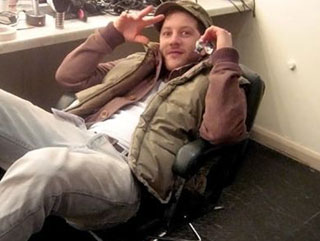 During the day, Cardle, who can play an impressive three chords on electric guitar, has been seen conducting a regular late morning ritual of buying a packet of Walkers cheese & onion crisps and a can of regular Fanta. On occasions, he has also purchased Mars bars and Lucozade in the afternoons, presumably to get him through dance rehearsals.
He said: 'The machines have everything a painter & decorator could hope for. Just solid, mass-produced high calorie foods that are likely the main cause of Britain's obesity epidemic.'
'If there was one thing that's missing though, it would be some of that Polish meat in jars that I've seen in Sainsbury's. I'd like to try that some time.'
'I'll bet you thought I was going to say jellied eels, right? Fuck you.'
The vending machines are replenished three times a week by a man in his late fifties.